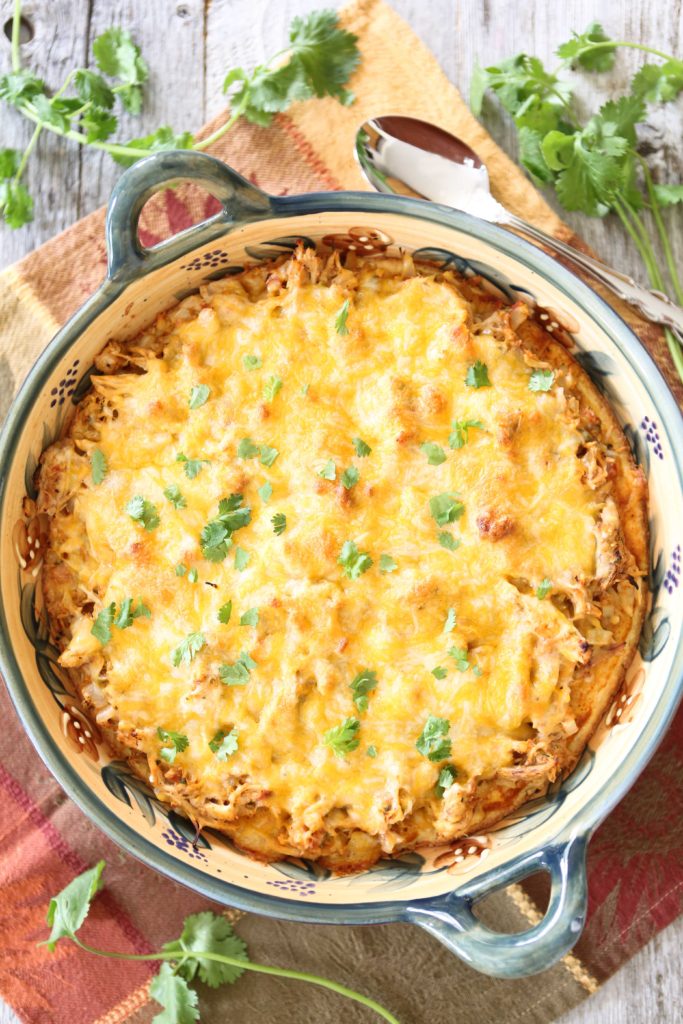 This delicious Cheesy Chicken Tamale Pie recipe is bursting with flavors and textures! Plus it's quick and easy to prepare, and it's hearty and satisfying.
For a quick and easy family dinner, you just can't beat Cheesy Chicken Tamale Pie. Garnish it with sour cream or my favorite Cilantro-Ranch Dressing recipe which you can find by clicking HERE. YUM!

Cheesy Chicken Tamale Pie
2017-06-02 14:41:45
Serves 8
Ingredients
1 box (8.5 ounces) corn muffin mix
½ cup buttermilk
1 egg, room temperature
½ c cup corn kernels (fresh, frozen, or canned)
2 tablespoons butter, melted
1 tablespoon extra-virgin olive oil
1 large onion, chopped
2 cloves garlic, minced
1 tablespoon taco seasoning
2 cups shredded chicken
2 cups salsa, divided
½ cup enchilada sauce
3 cups shredded mixture cheddar and jack cheese
Salt and fresh ground black pepper to taste
Cilantro, chopped for garnish
Sour cream, salsa, guacamole, enchilada sauce etc for garnish
Instructions
Grease round (12-inch) baking dish or skillet, and preheat oven to 400 degrees, F.
In a large skillet, over medium heat, sauté onions in olive oil until tender (about 5 minutes). Add garlic, and cook 1 minute more. Stir in taco seasoning. Add chicken and 1 cup salsa, then salt and pepper to taste.
Meanwhile, in a medium-size bowl, combine corn muffin mix, buttermilk, egg, corn and melted butter. Mix until evenly combined, and spread into prepared pan. Pour remaining 1 cup salsa over top, and spread evenly. Add chicken mixture, and top with cheeses.
Cover with foil, and bake at 400 degrees for 20 minutes. Remove foil, and bake for another 2-5 minutes.
Garnish with fresh cilantro, and serve with sour cream, salsa, guacamole, or your favorite Mexican sauce.
White Apron Blog http://whiteapronblog.com/