Why didn't I think of cheesecake?
Our family has so many food traditions that it's becoming an inside joke. We have a traditional food for almost every occasion which makes it ironic that we've never settled on a "traditional" Christmas Eve dessert.
Every December we make boat-loads of delicious holiday treats (English toffee, fudge, sugar cookies, brigadeiro, shortbread, ginger snaps, peppermint cake, etc.). The month of culinary indulgence all culminates on Christmas Eve.
With all the delicious food in my kitchen, I've never felt the pressing need, or rather motivation, to create a specific dessert. However, I always make an attempt (sometimes valiantly and sometimes half-heartedly). This year my kids came through for me and made a suggestion: New York style cheesecake.
I was sold. New York cheesecake is not run-of-the-mill cheesecake. It's tall, dense, rich and very decadent. It's a special dessert for a special occasion. I made it, and my family ate savored devoured gushed-over LOVED it. It was so rich and creamy that it could stand alone (no topping necessary), but it was also amazing with toppings. I liked it best with a handful of ripe berries … super gorgeous, super Christmasy, and super tasty.
I think we found a winner, and that's how another tradition was born.
Easy Step-By-Step Instructions for Cheesecake
Free Printable Recipe for Cheesecake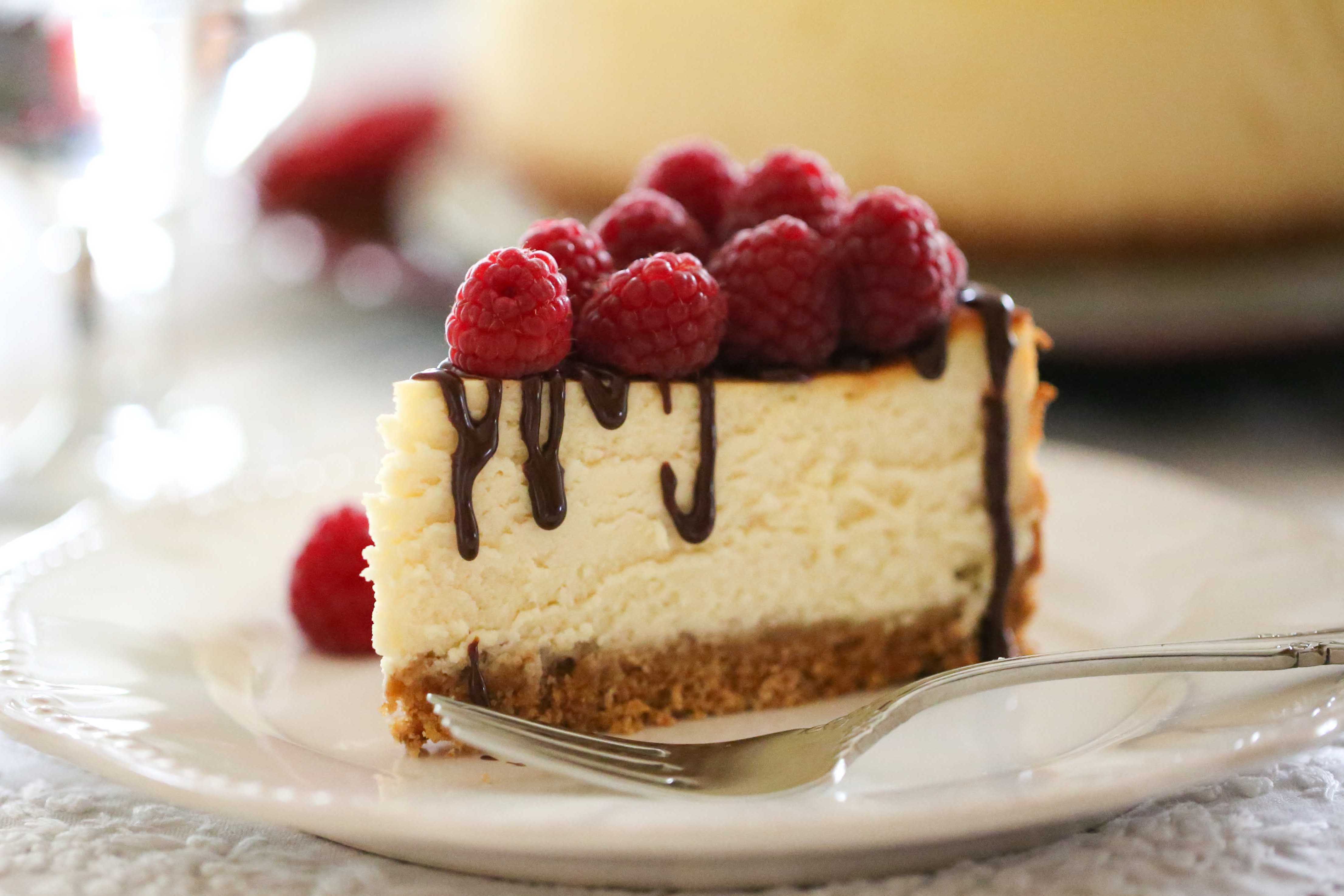 Cheesecake
2017-12-01 17:37:46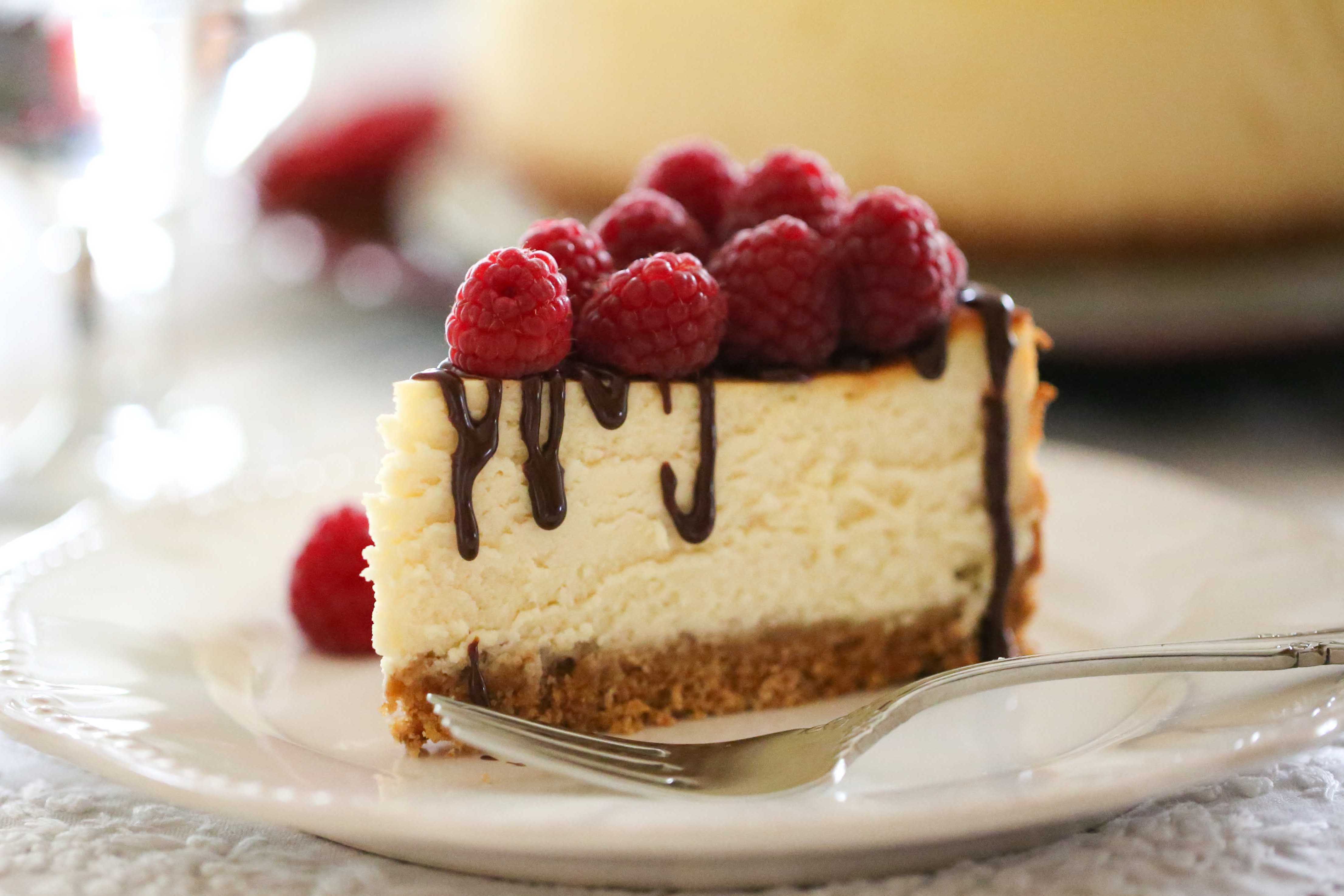 Crust Ingredients
12 whole graham crackers, crushed
5 tablespoons butter, melted
3 tablespoons sugar
Cheesecake Ingredients
4 (8 ounce) packages cream cheese, softened
1 ½ cups sugar
2/3 cup half and half (or whole milk)
4 eggs, room temperature
1 cup sour cream
¼ cup flour
1 tablespoon vanilla extract
fresh berries, chocolate, whipped cream, for toppings
Instructions
Preheat oven to 350 degrees F. and coat a 9-inch spring form pan with non-stick spray for baking. Wrap the bottom of the pan in foil so that it's water-proof. Pour 1 inch of water into the bottom of a large baking pan. This will give a little humidity to the baking environment to help prevent cracking.
In a medium bowl, mix graham cracker crumbs with melted butter. Press mixture into the bottom of the prepared pan.
In the bowl of a stand mixer, mix cream cheese with sugar until smooth. Add half and half (or milk), and beat until creamy. Add eggs one at a time, mixing just to incorporate. Add sour cream, vanilla, and flour, and beat until smooth. Pour filling on top of crust.
Place baking pan of water into hot oven, and immediately set cheesecake pan in center.
Bake at 350 degrees for 60 minutes. Turn oven off, and let cool with door ajar for 1 hour. This prevents cracking. Remove the whole thing, and allow to cool at room temperature (still in the water bath) for another hour. Then remove cheesecake from water and throw away the foil. Cool completely (another 2-3 hours) before removing from pan. Chill in refrigerator several hours; preferably overnight.
White Apron Blog http://whiteapronblog.com/
Featured Tools