Texas sheet cake is great because: 1) it's chocolate 2) it's easy 3) it's quick 4) it's delicious.
It's also a wonderful base for a scoop of ice cream. The simple fact is that you can have this cake mixed, baked, frosted, and in your mouth faster than i takes to make a batch of brownies.
How is this not a great thing?
Easy Step-By-Step Instructions for Texas Sheet Cake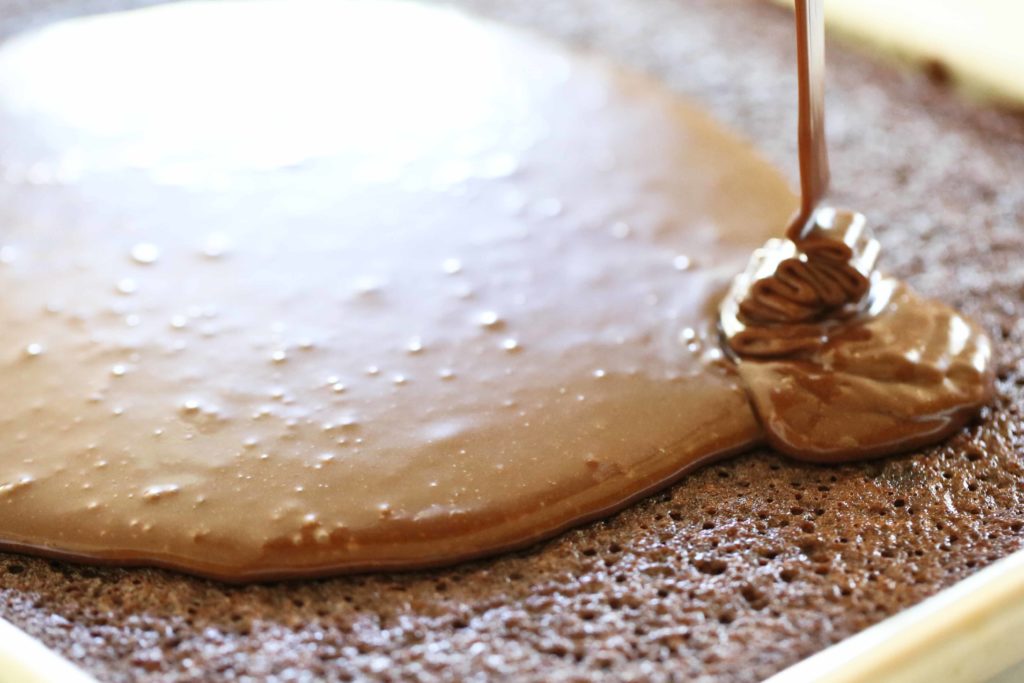 Free Printable Recipe for Texas Sheet Cake
Texas Sheet Cake
Ingredients
Cake Ingredients:
½

cup

butter

½

cup

shortening

¼

cup

unsweetened cocoa

1

cup

water

2

cups

all-purpose flour

2

cups

granulated sugar

¼

teaspoon

salt

2

eggs

½

cup

buttermilk

1

teaspoon

baking soda

1

teaspoon

cinnamon

1

teaspoon

vanilla extract
Frosting Ingredients:
½

cup

butter

¼

cup

unsweetened cocoa

6

tablespoons

milk or cream

1

teaspoon

vanilla

3

cups

powdered sugar

1

cup

chopped walnuts

optional
Instructions
Cake Directions:
Lightly coat a 16 x 12 inch baking sheet with non-stick spray for baking.

Combine butter, shortening, cocoa, and water in a 2 quart sauce pan, and bring to a boil over medium heat. Stir frequently.

Whisk together flour, sugar, and salt.

Pour hot cocoa mixture over flour mixture and whisk until smooth.

Gently beat eggs, and add them, along with buttermilk, baking soda, cinnamon and vanilla to the cocoa mixture. Whisk just until incorporated—do NOT over-mix. The baking soda and buttermilk will begin to react to create a bubbly leavening, so work quickly.

Pour batter into prepared pan, and bake at 400 degrees for 20 minutes.

During the last 10 minutes of baking, prepare frosting.
Frosting Directions:
In 2-quart pan over low heat, melt butter. Add cocoa and milk (or cream), increase heat to medium high, and stirring constantly, bring to a boil.

Remove from heat, and whisk together with powdered sugar and vanilla. Add nuts, if desired.

Remove cake from oven, and let rest 3-5 minutes.

Gently drizzle frosting over hot can, and carefully spread. Be especially careful if you're using nuts because they tear into the fragile cake.

Cool completely, cut, and serve.