I'm not a huge fan of seafood, but, I usually like fish and chips. This recipe goes beyond being "liked." Its' in a whole different league from average fish and chips. I LOVE this one.
In spite of the fact that everything is fried, it doesn't seem heavy. The fries are perfectly crisp, and the moist, mild, white cod fillets are coated in a delicious beer batter that's substantial enough to stay in place, but easily crackles away when you cut into it. This is fish and chips PERFECTION!
Serve this with lemon wedges and tartar sauce, and you've got an incredibly satisfying meal!
Jump to Recipe
Easy Step-By-Step Instruction for Fish and Chips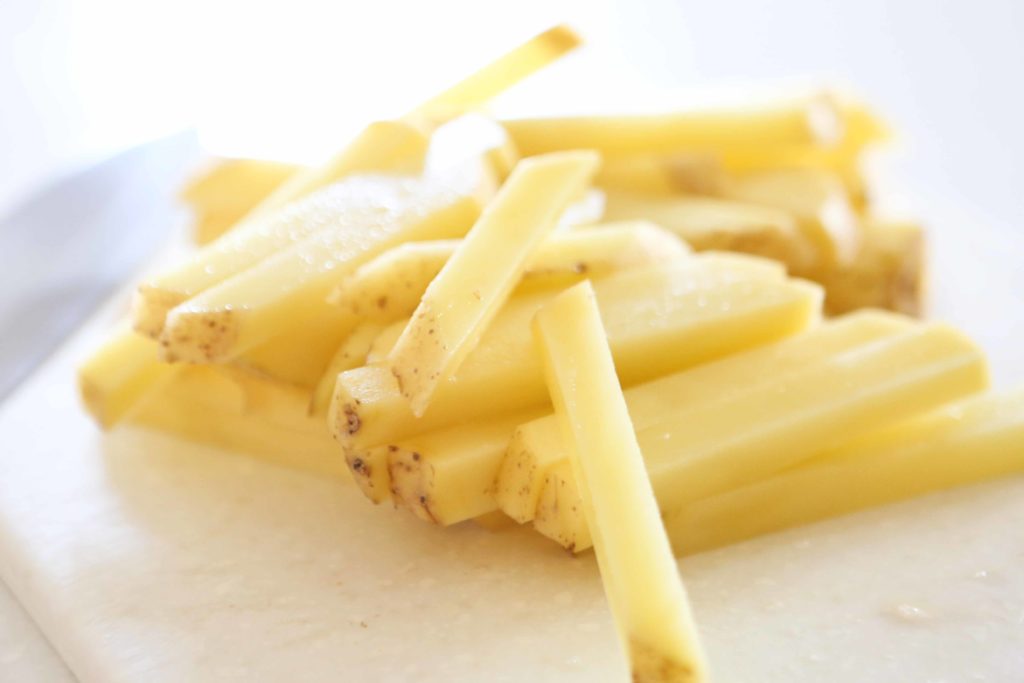 Free Printable Recipe for Fish and Chips
Fish and Chips
Mild fish with a delicious crispy beer batter coating and perfectly crispy homemade fries. This is the best fish and chips you'll ever eat.
Ingredients
2

pounds

boneless cod fillets

2

pounds

Yukon gold potatoes

8

cups

peanut oil

Salt and pepper
Batter Ingredients:
1

cup

all-purpose flour

1

cup

cornstarch

1 ½

teaspoons

salt

1

teaspoon

baking powder

1 ½

cups

beer

I use a light lager
Instructions
Batter directions:
In a large mixing bowl, whisk together flour, cornstarch, salt, and baking powder. Add beer, and whisk just until smooth. Cover and refrigerate while you prepare the next steps.

Pat dry the cod, and cut into uniform sized pieces. Sprinkle with salt and pepper, cover, and refrigerate.

Line two baking sheets with multiple layers of paper towels, and put a rack in one. Set aside.

Scrub and dry potatoes. Cut into fries measuring approximately 1 cm x 1 cm x length of the potato. It helps if you slice of the rounded edges to make the potatoes a little more square before slicing into fries.

Preheat oven to 300 degrees F. Pour oil into a 6-quart dutch oven, and add the fries to the COLD oil. Stir to make sure all edges of potatoes have been coated in oil, then turn heat to high. Set timer for 15 minutes, and do NOT stir again. The oil should begin to boil in about 7 minutes. Watch carefully so they don't burn, but they should be just fine. After 15 minutes, stir gently, and then cook for 3 minutes more. They shouldn't be quite done, but remove from oil to the baking sheet without the wire rack. Do NOT season. Place them into a 300 degree oven to stay warm. The paper towels will be fine.

Leave the oil on high heat to get to 375 degrees F. Place all fish pieces into batter, and gently stir to coat. As soon as oil reaches 375 degrees, carefully put half of the battered pieces in to fry. Keep the oil temperature between 350 and 375 degrees while the fish is frying. Cook for 4 minutes per side, gently moving them around occasionally so they don't stick together. Turn over, and cook 4 minutes more. Remove to baking sheet with wire rack, place in 300 degree oven to stay warm. With a slotted spoon, or spider, remove any floating pieces of batter from oil, and repeat frying procedure with other half of fish. Skim oil, again.

Return fries to oil, and stir frequently. Fry just until golden, which only takes 1-2 minutes. Remove to paper towel lined sheet, and season with salt and pepper to taste.
Notes
Serve fish and chips immediately.