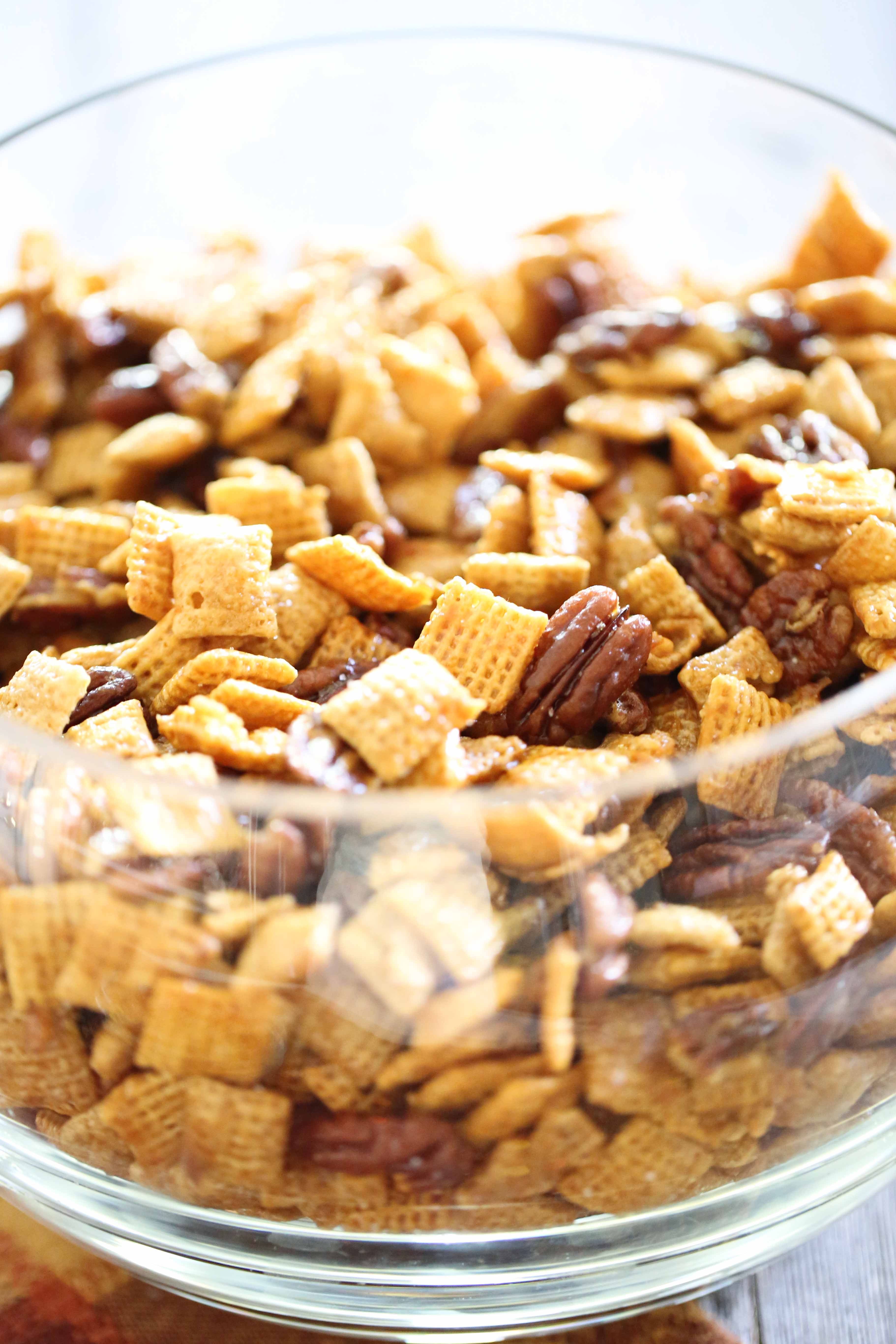 Pecan Praline Chex Mix is rich, buttery, sweet, salty, nutty, and crispy. It's great by itself, but it's also wonderful with some chocolate pieces thrown in. I'm considering trying it with pretzels, as well, but I haven't gotten around to it, yet.
This is a delicious option for snacking and for sharing. With the gift-giving season right around the corner, pecan praline chex mix is a great option for giving to friends. Adding holiday colored candies makes it festive. Fill up little tins or cellophane gift bags, and you're ready to go.

The proportions in this recipe make 15 cups, so you can give some away, and still have some for yourself.
Easy Step-By-Step Instructions for Pecan Praline Chex Mix
Free Printable Recipe for Pecan Praline Chex Mix
Pecan Praline Chex Mix
2018-11-07 16:53:39
Ingredients
12 cups Chex cereal (Rice, Corn, or combination)
3 cups pecan halves
1 ½ cups packed brown sugar
1 cup evaporated milk
3 tablespoons dark corn syrup
3 tablespoons butter
1 ½ teaspoons vanilla extract
1 teaspoon baking soda
½ teaspoon sea salt
1 cup candy coated chocolate pieces (optional)
Instructions
Line a baking sheet with parchment paper, and preheat oven to 250 degrees F.
In a large mixing bowl, combine cereal and pecans.
In a medium sauce-pan, melt butter over low heat. Add sugar, evaporated milk, and corn syrup, and bring to a boil, stirring occasionally. Boil for 3 minutes. Remove from heat, and stir in vanilla and baking soda. Pour over cereal and pecans, and stir until completely coated. Spread onto prepared baking sheet.
Bake at 250 degrees for one hour, stirring every 20 minutes. Spread onto paper-lined counter and immediately sprinkle with sea salt. Cool completely. Add candy-coated chocolate pieces, if desired. Store in airtight container.
White Apron Blog http://whiteapronblog.com/