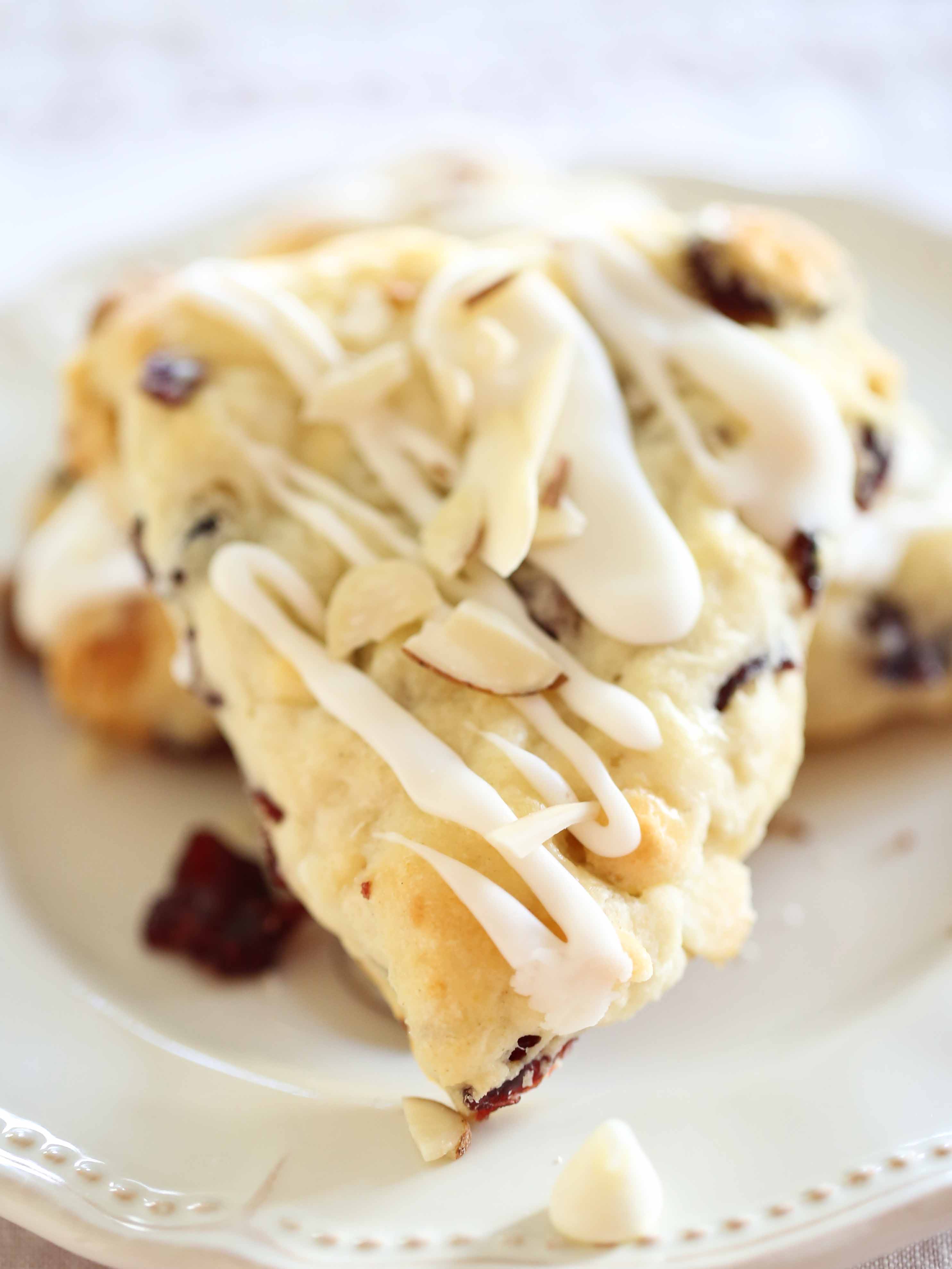 Recently I was asked to make some English tea scones for a bridal shower. A couple of days later, I was on the phone with my daughter Becca (who is attending BYU), and mentioned making scones. She told me about some amazing cranberry and white chocolate tea scones that she had tried at school. A professor had brought them for her class after they finished reading Dickens's Great Expectations. Becca emailed her professor who was kind enough to send on the recipe.

My favorite thing about these scones is how balanced the flavors are. English tea scones on their own tend to fall on the more savory side, but add white chocolate chips and cranberries and you get the perfect amount of sweetness that keeps you coming back for more. By the time you top them with the almond glaze and slices, these beauties are over the top.
White Chocolate Cranberry English Tea Scones are a MUST try for anyone who loves a classy treat! Thanks to Dr. Lorraine Wood at BYU for sharing this recipe with us!

Easy Step-By-Step Directions for White Chocolate Cranberry English Tea Scones
Free Printable Recipe for White Chocolate Cranberry English Tea Scones
White Chocolate Cranberry English Tea Scones
2018-02-26 19:23:42
Scone Ingredients
1¾ cup flour
2 teaspoon baking powder
½ t teaspoon salt
1 tablespoon sugar
½ cup. (one stick) unsalted butter, cold and cut into 1/3" cubes
½ cup dried cranberries (craisins)
½ cup white chocolate baking chips
¾ cup buttermilk
Almond Glaze Ingredients
1 cup powdered sugar
2 tablespoons milk, half and half, or cream
¼ teaspoon almond extract
¼ cup sliced almonds (these go on top of the glaze, not in it)
Scone Directions
Cut butter into cubes about the size of green peas then return to the fridge for 20 minutes.
Line a baking sheet with parchment or a silicon mat, and heat the oven to 400 degrees F.
In medium-size mixing bowl, combine the flour, baking powder, salt, and sugar. Add butter cubes, and mix just until coated with flour (butter must be cold). Butter chunks should remain fairly large—no less than half their original size. Add craisins and white chocolate chips and stir gently. Add just enough buttermilk to make a soft dough (about 2/3 cup), and reserve the rest for brushing tops of scones.
Scrape the dough from the bowl and shape into a ball. With well-floured fingers (and a well-floured counter surface), pat the dough into a 7"-diameter disk. Cut into eighths. Set scones on the prepared baking sheet, and brush tops with remaining buttermilk. Bake until lightly browned, about 15-20 minutes. Cool on wire racks.
Almond Glaze Directions
Mix together powdered sugar, milk, and almond extract in a medium-size bowl. Drizzle over warm scones, and sprinkle sliced almonds on top.
Notes
Note: You can double this recipe and then just split the dough into two circles for 16 scones.
Adapted from Lorraine Wood
Adapted from Lorraine Wood
White Apron Blog http://whiteapronblog.com/