If you've ever been to a carnival or fair and smelled fresh corn dogs cooking, you'll understand the inspiration for this recipe. That's where I was last week, and ever since then, I haven't been able to stop thinking about this all-American snack.
This recipe is fun, easy, and so delicious.

A huge advantage of making your own corn dogs is that you can control the quality of ingredients. We used all-beef hot dogs because we like them best. Also, we used fresh oil for frying, and that makes the corn dogs taste so good.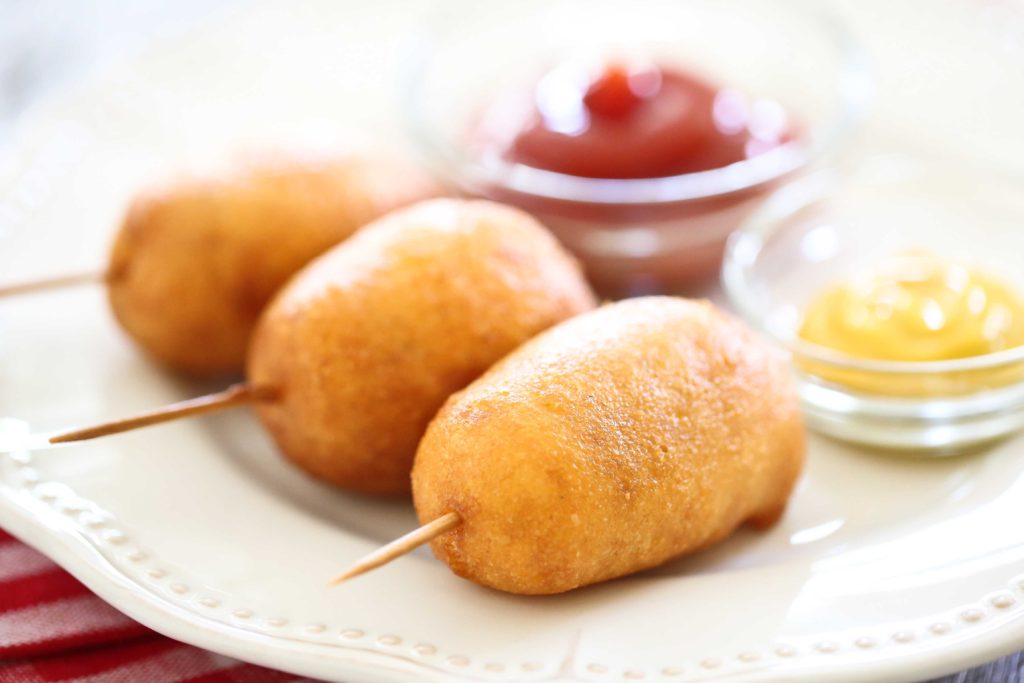 Corn Dogs and Mini-Corn Dogs
2017-06-23 22:53:15
Ingredients
1 cup corn meal
1 cup all-purpose flour
1 tablespoon sugar
2 teaspoons baking powder
¼ teaspoon salt
1 ½ cups buttermilk
1 egg, room temperature
2 tablespoons olive oil
2 tablespoons honey
16 hot dogs
3-4 cups vegetable oil for frying
Skewers or popsicle sticks (or toothpicks if making mini-corn dogs)
Instructions
In a large pot or dutch oven, heat oil to 350 degrees F.
Dry hot dogs with a paper towel, and insert a skewer or popsicle stick into each one. If making mini-corn dogs, cut each hot dog into thirds, and insert a toothpick into each piece.
In a medium-size mixing bowl, whisk together corn meal, flour, baking powder, and salt. Add egg, milk, honey, and olive oil, and whisk just enough to incorporate. Transfer batter to a tall glass.
Dip each hot dog into batter until completely immersed, and immediately (but carefully) drop into hot oil. Fry until golden (about 2-3 minutes), then drain on paper towels.
Notes
Yields 16 full size corn dogs, or up to 48 mini-dogs
White Apron Blog http://whiteapronblog.com/