Chicken Cordon Bleu is delicious! In fact, it's one of my family's favorite meals, but let's be real. It's a lot of work! This recipe is 80 percent as good, but only takes 40 percent the effort. I crunched the numbers, and it makes good sense.
I still make the real deal for special occasions, but for a weeknight dinner, this is quick, easy, and really tasty.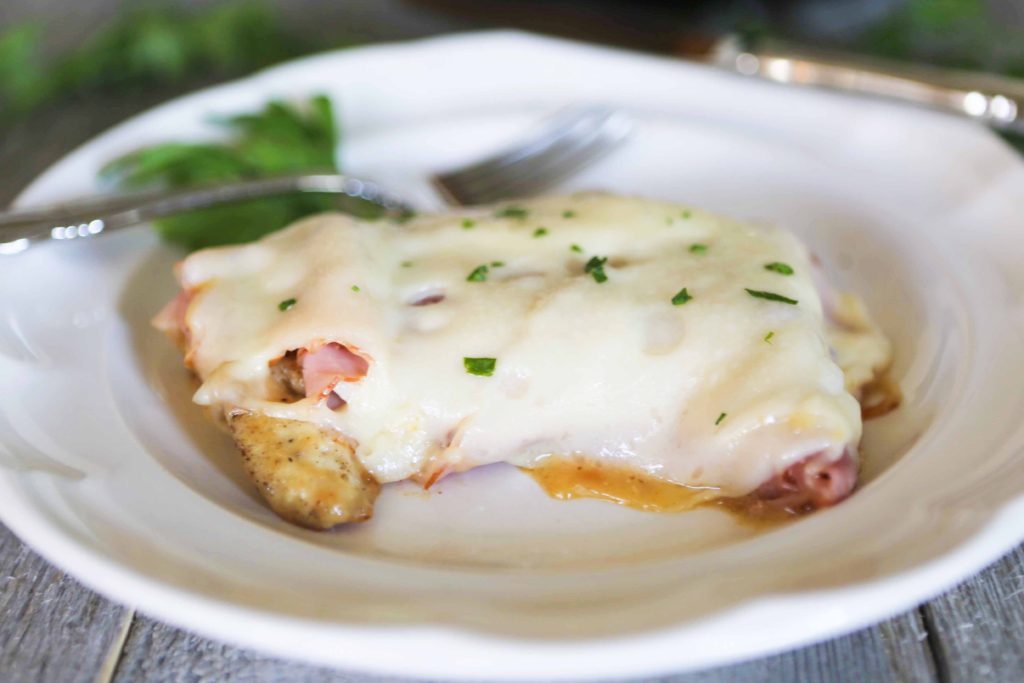 Skillet Chicken Cordon Bleu
2017-03-18 16:44:35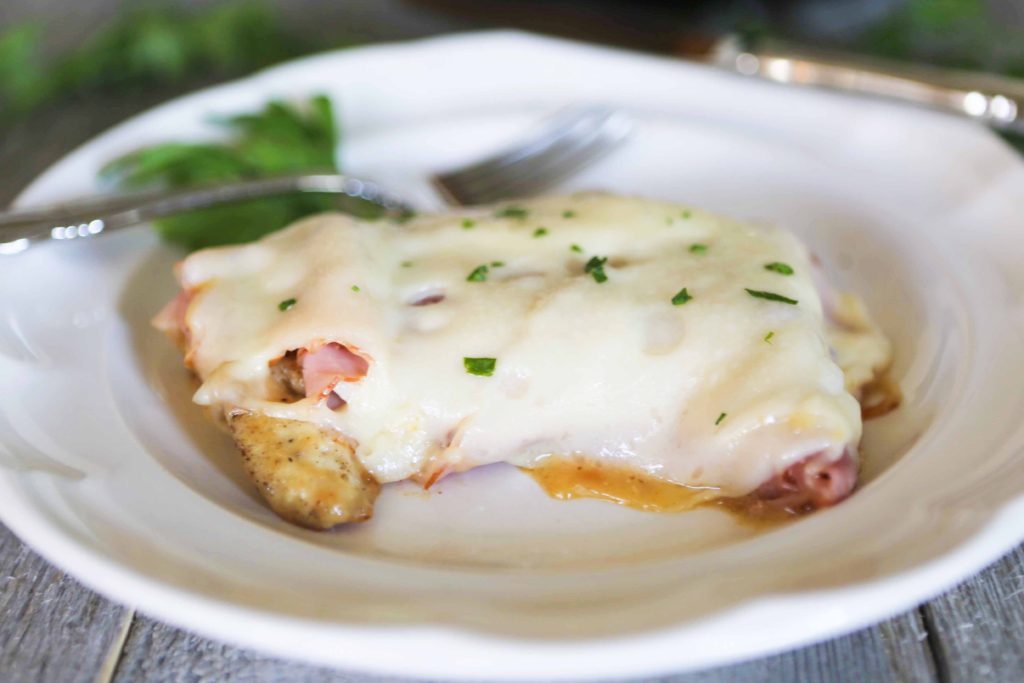 Serves 4
Ingredients
2 boneless, skinless chicken breasts (about 1 pound)
¼ cup all purpose flour
½ teaspoon kosher salt
¼ teaspoon white pepper
1 teaspoon butter
1 tablespoon olive oil
1 can (14 ounces) chicken broth
2 tablespoons fresh lemon juice
1 tablespoon dry white wine (optional)
½ tablespoon honey mustard
1 tablespoon corn starch
½ cup heavy cream
4 thin slices deli ham
4 slices Swiss Cheese
chopped fresh parsley, for garnish
Instructions
Place chicken breasts in a zipper bag, and pound to even thickness. Cut each piece in half to make 4 pieces.
Combine flour, salt, and white pepper in a shallow pie plate. Whisk together with a fork.
Dredge each piece of chicken in the flour mixture, coating all sides. Then set on a plate.
Mix 1/4 cup chicken broth with 1 tablespoon corn starch and 1 teaspoon of remaining dredging flour to form a thickening paste, and set aside.
Combine remaining chicken broth, lemon juice, white wine, and honey mustard.
In a large skillet, over medium heat, melt the butter with the olive oil. Sauté the chicken pieces for 4 minutes per side. Remove to a plate to rest.
Increase the heat to medium high, and pour the broth/lemon juice mixture into the skillet (not the reserved 1/4 cup). Whisking up all the browned bits from the bottom, bring the mixture to a boil. Simmer for several minutes until reduced by half. Whisk in the 1/4 cup chicken broth paste, and return to a boil. Boil for 2 minutes. Whisk in cream, and reduce heat to medium low.
Return chicken to the skillet. Top each piece with a slice of ham and a slice of cheese. Cover for a few minutes until the ham is warm and the cheese has melted.
Serve immediately, sprinkled with fresh parsley and topped with the sauce.
Adapted from skinnytaste.com
Adapted from skinnytaste.com
White Apron Blog http://whiteapronblog.com/