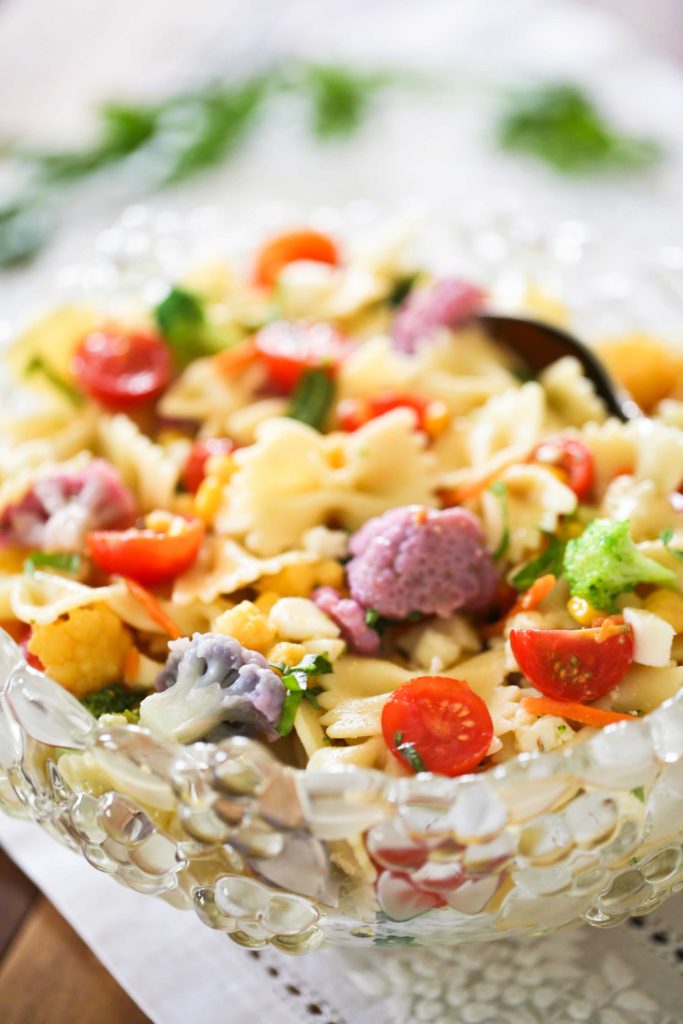 I'm in awe of the colors that are found in nature. Fruits, vegetables, flowers, trees, etc are the most varied and gorgeous colors. My eyes love to look at them, and I can't take enough photos of them. We live in a beautiful world, and man just can't duplicate what God has created!
Today, when I was shopping for groceries, something new caught my eye.
I'd never seen these varieties before, and I wanted to try them. So I rushed home to make a salad. The wonderful thing is that the flavors of fresh foods are as varied as the colors. There's so much beauty to see and taste, and I had an idea for a salad that I've been wanting to make.
So here's what I did.
Rainbow Pasta Salad
2017-03-27 17:25:50
Serves 8
Dressing Ingredients
1/4 cup extra virgin olive oil
3 tablespoons fresh lemon juice
2 tablespoons fresh basil leaves, sliced into ribbons
1 teaspoon salt
½ teaspoon freshly ground black pepper
Salad Ingredients
12 ounces bow tie pasta
1 cup cooked, cooled corn
1 cup cooked, cooled broccoli
1 cup cooked, cooled colored cauliflower
1 cup grape tomatoes, halved
½ cup shredded carrot
8 ounces fresh mozzarella cheese, diced
¼ cup fresh basil leaves, sliced into ribbons
Freshly ground black pepper and salt to taste
Instructions
In a small bowl, whisk together dressing ingredients, and set aside.
Cook pasta according to package directions. Run under cold water, and drain well. Allow to cool completely. Then transfer to a large bowl
Add corn, broccoli, cauliflower, tomatoes, carrots, mozzarella, basil, and lemon-oil dressing to the pasta. Toss to combine, and sprinkle with salt and fresh pepper, if desired.
Adapted from CookSmart by Ellie Krieger
Adapted from CookSmart by Ellie Krieger
White Apron Blog http://whiteapronblog.com/