Chicken fried steak is a guilty-pleasure type comfort food. It's not something that I eat often, but it's really yummy once in a while. It's surprisingly easy to make, but you need to plan ahead because the meat needs to sit in a brine for 2 hours before frying. After that, you can coat and fry them in less than 20 minutes.
Traditionally, this dish was made with cheap cuts of meat, but this recipe uses rib-eye steaks. It's full of flavor, and practically melts in your mouth.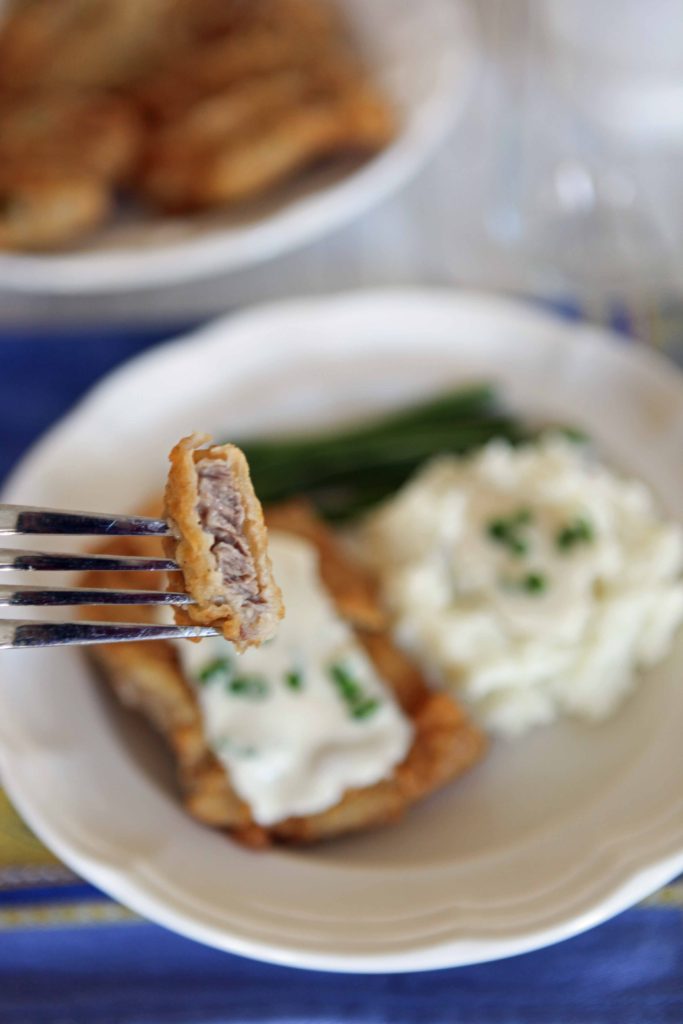 ---
Let's get started.
---
When you're ready to fry the steaks, heat 3-4 cups of vegetable oil over medium high heat in a large, deep, skillet.
---
To make the gravy: heat 2 cups milk in microwave for 4-5 minutes on high power. Watch that it doesn't boil over.
Chicken Fried Steak
2016-02-09 19:45:15
Serves 6
INGREDIENTS FOR STEAKS
2 lbs rib-eye steaks, cut ½ inch thick
1-2 teaspoons salt, for brine
1-2 cups water, for brine
2-3 cups vegetable oil, for frying
3 ½ cups flour
2 tablespoons baking powder
1 teaspoon paprika
1 teaspoon garlic powder
1 teaspoon onion powder
1 teaspoon sea salt
1 teaspoon black pepper
INGREDIENTS FOR WHITE GRAVY
3 tablespoons butter
3 tablespoons flour
½ teaspoon chicken bouillon
½ teaspoon beef bouillon
½ teaspoon fresh pepper
2 cups milk
salt to taste
DIRECTIONS FOR STEAKS
Trim excess fat from steaks.
Using flat side of meat mallet, gently pound steaks to tenderize and slightly flatten.
Place in baking dish and add enough water to cover completely. Sprinkle with 1 tablespoon salt, and mix the solution. Cover and refrigerate for 2 hours.
In large, deep, skillet, heat 1 ½ inches of oil over medium high heat to 350 degrees F.
In shallow bowl, stir together flour, baking powder, paprika, garlic powder, onion powder, sea salt, and pepper.
One by one, lift the steaks from the brine, and dredge in flour mixture. Coat well. Then dip back into brine, and dredge again.
Gently slip steaks into hot oil. Fry half at a time for 3-5 minutes per side. Watch carefully.
Remove to paper towel lined plate, and let rest 10 minutes.
DIRECTIONS FOR WHITE GRAVY
Heat milk in microwave on high power for 4 minutes
Melt the butter in a 2 quart sauce pan, then stir in flour, chicken and beef bouillons, and pepper to make a smooth roux.
Add hot milk, and whisk until it thickens. If it's too thick, add more milk, to desired consistency.
Serve immediately with Chicken Fried Steak.
Adapted from Tyler Florence
Adapted from Tyler Florence
White Apron Blog http://whiteapronblog.com/