I've already established that I love caramel! I may or may not have mentioned that I love popcorn, as well. Several weeks ago, I posted a recipe for Crispy Caramel Popcorn, so now it's time for Chewy Caramel Popcorn. We all need a little variety. Sometimes I want my caramel corn crunchy, but sometimes I just want to chew some deliciously buttery, gooey, soft caramel corn. This recipe absolutely delivers.
Remember when people used to make chewy caramel popcorn balls? This recipe would be perfect for that. I never bother making the balls, but it would be fun for young children. Butter your hands really well, if you want to do that. … or just eat it by the bowl-full. That's what I do.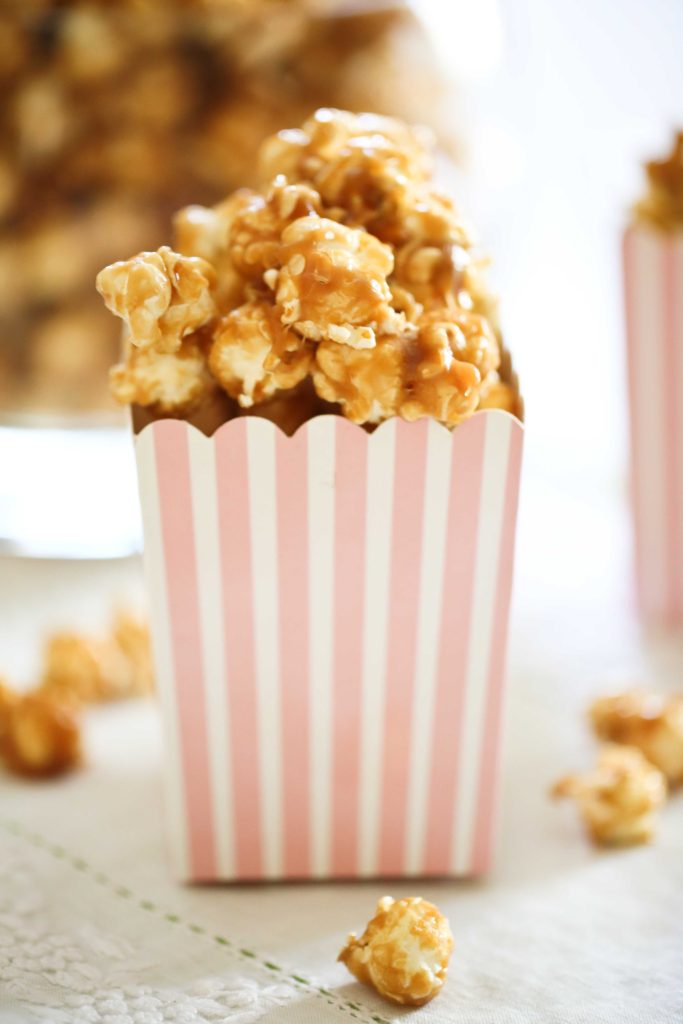 Easy Step-By-Step Instructions
Have you ever noticed that the popcorn you buy at the movie theater (and even the pre-popped bag that you get on the chips aisle at the grocery store) consists of big fluffy round kernels? The reason for this is that they use a different variety. It's called MUSHROOM POPCORN. The name has nothing to do with the flavor, so don't worry. I think it's a descriptor of the round shape.
Anyway, this variety pops up wonderfully. For this post, I popped it in my air popper. You can get it at amazon.com, in fact, you can click HERE for the MUSHROOM POPCORN
that I used. That's the only brand that I've tried, but I'm sure that other brands are great, too.
Now, let's get back to the recipe …
Free Printable Recipe for Chewy Caramel Popcorn
Chewy Caramel Popcorn
2017-11-29 15:29:35
Ingredients
½ cup popcorn kernels, popped (16 cups)
1 cup brown sugar
½ cup butter
½ cup heavy cream
¼ cup corn syrup (light or dark)
1 teaspoon Ronald Reginald's vanilla extract
1/8 teaspoon salt
Sea salt for sprinkling on top (optional)
Instructions
Pop the corn, and remove any un-popped kernels.
In a 3 quart saucepan, melt the butter over medium heat.
Add sugar, cream, corn syrup, and salt.
Bring to a boil, and cook until it reaches the soft-ball stage. (235-240 degrees F.)
Remove from heat, and stir in vanilla.
Drizzle over the corn, and stir to coat completely.
Spread out on a clean surface, and sprinkle with sea salt.
Notes
You may want to add 1 cup of nuts right before drizzling the caramel. Peanuts and almonds are especially good.
Yields 16 cups
White Apron Blog http://whiteapronblog.com/
Featured Tools