I love potatoes. You can bake 'em, fry 'em, mash 'em, put 'em in a stew, etc. I like them in all their different variations. Au gratin potatoes is the name of a French potato casserole that's sprinkled with bread crumbs, grated cheese, or both, then browned. You could make an assortment of different au gratins just by changing the cheese. Well, this recipe changes it further by using neither cheese nor bread crumbs. It's topped with crispy fried onions. (You know, the yummy ones you use in your green bean casserole, at Thanksgiving.) DELICIOUS!
Preheat oven to 400 degrees F.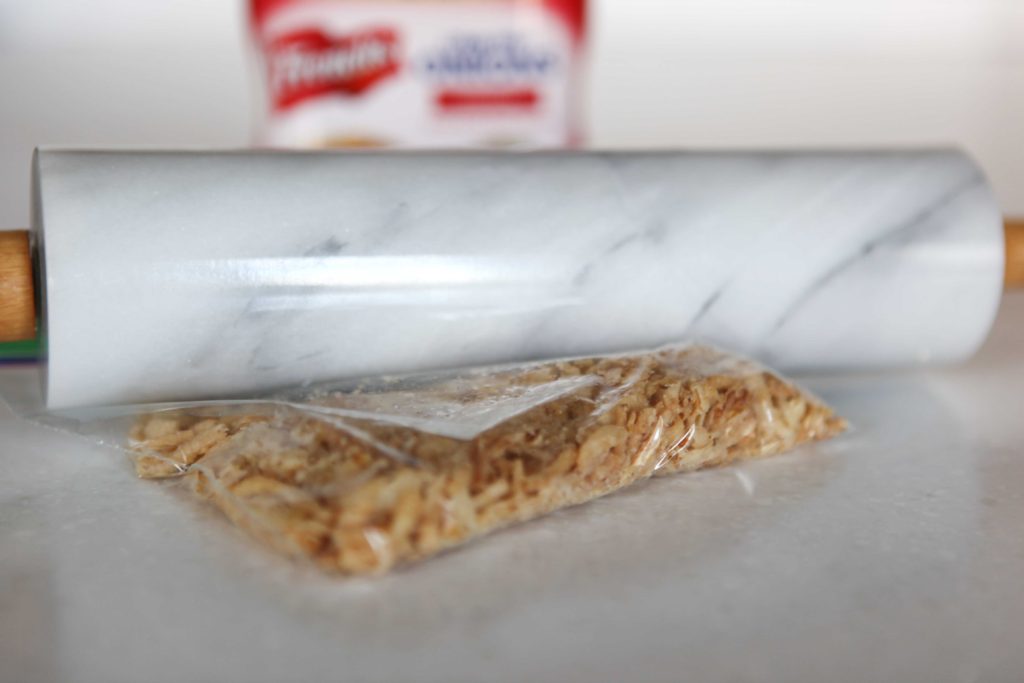 Crush the crispy fried onions.
Onion Gratin Potatoes
2016-01-07 21:02:20
Serves 12
Ingredients
4 pounds potatoes, peeled
2 onions
½ cup butter, melted
3/4 cup chicken broth
1 ½ teaspoons salt
½ teaspoon pepper
1 ½ cups French's Crispy Fried Onions
Instructions
Preheat oven to 400 degrees F.
Grease 13 x 9 inch baking dish.
Slice the onions into strips.
Melt 1 tablespoon of butter over medium heat, and sauté the onions until golden and transluscent. Add ½ teaspoon of salt.
Cut the potatoes into 1/8 inch slices.
Melt the rest of the butter and pour it over the potatoes. Toss with 1 teaspoon of salt and the pepper.
Toss the onions with the potatoes.
Arrange in the greased baking dish, and pour chicken broth over all.
Cover tightly with foil and bake at 400 degrees for 1 hour.
While baking, crush the Crispy Fried Onions with a rolling pin.
Remove the potatoes from oven, and sprinkle crushed onion on top.
Return to oven, uncovered, for 10 minutes more.
Let stand 10 minutes, then serve.
White Apron Blog http://whiteapronblog.com/