If you're avoiding butter, this isn't the recipe for you. Do you see that white glisten on the tops of these rolls? That's pure, golden, heavenly butter, my friends! If you're counting calories, just keep walking, 'cause these little bits of perfection are loaded. They're aptly named because there's butter in the dough, butter rolled into the crescent, and butter brushed on top. … But that doesn't stop us from adding a little slab when we eat them.
So, I wouldn't recommend eating them everyday, but for special occasions, indulge. In fact, having some of these to eat IS a special occasion.
Anyway, … this recipe came from a cookbook that we received as a wedding gift. I've made them dozens (maybe even scores) of times, and they NEVER fail. Over the years, I've made a few minor adjustments to the original recipe, and we think they're just about perfect. They're definitely delicious! This version makes 64 crescent rolls, so cut it in half (or third) if it's too large.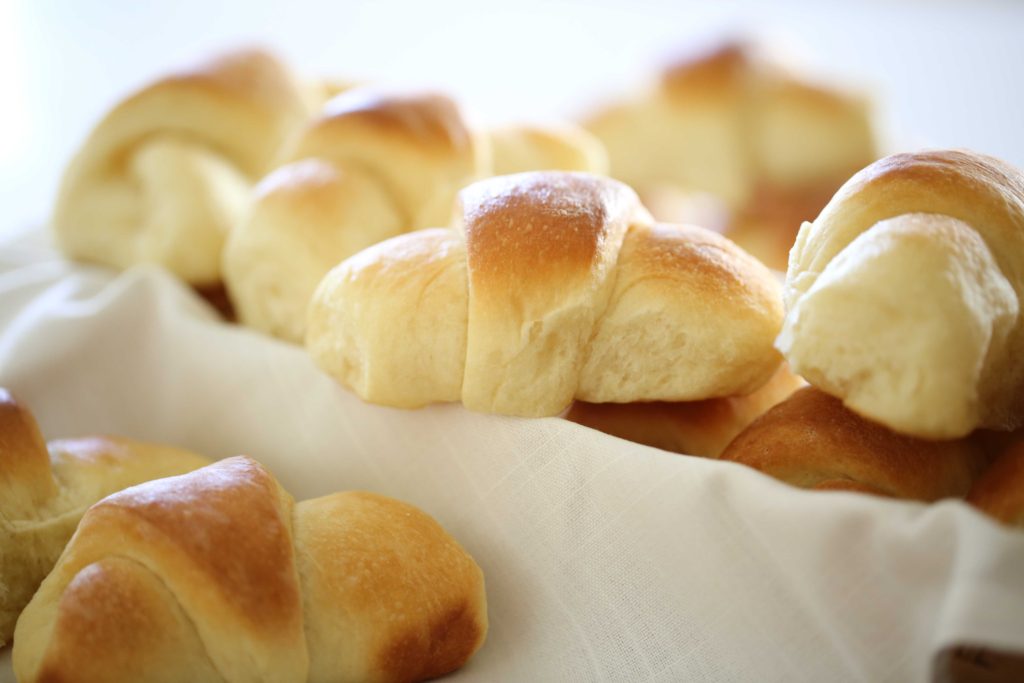 ---
Butter Rolls
2016-09-28 20:41:59
Ingredients
4 cups warm milk
2 tablespoons yeast
1 cup sugar
6 eggs (room temperature)
1 cup melted butter (cooled)
2 teaspoons salt
8 to 10 cups bread flour
1/2 cup softened butter for spreading on dough
1 teaspoon oil (to grease bowl)
Instructions
Dissolve the yeast and sugar in the warm milk. Let stand until bubbly. (about 10 minutes)
In a separate bowl, beat the eggs and mix with the cooled butter.
Add to the yeast mixture along with about six cups of flour and the salt. Mix until combined.
Add the remaining flour until you have a soft dough. The less flour you use, the more tender your rolls will be.
Knead dough for several minutes.
Drizzle teaspoon of oil into large mixing bowl, and wipe all the way around, from top to bottom.
Put dough into oiled bowl, and turn it over so that the oil coats all of it.
Loosely cover the bowl with a clean (lint-free) towel, and let it rise until double. (about 1 hour)
Punch down the dough and turn it out onto a clean surface. (I spray the surface with a non-stick cooking spray to keep the dough from sticking)
Divide into 8 equally sized balls. Then cover them with the towel, and let them rest for 10 minutes.
With a rolling pin, roll each ball into a circle. (Approximately 14 inches in diameter) Spread 1 tablespoon of softened butter on each circle. Then cut each one into 8 triangles.
Starting at the wide end, roll up each triangle.
Put the rolls on a greased pan and let them rise, again, until double in size.
Preheat the oven to 350 degrees F, and bake for approximately 15-20 minutes.
Let them cool in the pan for about 5 minutes, and then turn them out on a rack.
Butter the tops, if desired.
Notes
This recipe also make delicious cinnamon rolls.
Adapted from "With Singleness of Heart"
Adapted from "With Singleness of Heart"
White Apron Blog http://whiteapronblog.com/